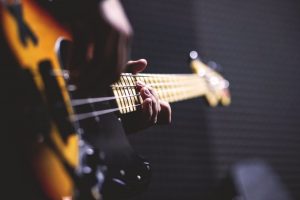 ---
Did you know that Orange County is synonymous with great performing artists?
Many notable names got their start here in Chapel Hill including James Taylor, Ben Folds Five, and Lost in the Trees.
Whether you enjoy jazz, rock, or country, you can listen to these genres and more at the following venues:
Cat's Cradle
For more than forty years, located less than a mile from the University of North Carolina Chapel Hill campus in downtown Carrboro, the Cat's Cradle has been the Triangle's premier live music venue. Just two minutes from our apartment community, it gives concertgoers a chance to see both emerging and established bands in a more intimate setting. It's a fun place to meet friends, and over the years, groups such as Nirvana and Public Enemy have taken to the stage.
Local 506
Since 1992, Local 506 has been an all-ages rock club that hosts local and up-and-coming touring artists. It has a four-star rating on Yelp and is complete with colorful walls, twinkling lights, and a friendly staff. Musicians take to the stage several nights a week, and beverages are available for purchase.
The Station
Built in the late 1800s, The Station is a historic landmark that originally housed the local train depot. Today, its mission is to celebrate musical moments, and it inspired Elizabeth Cotton to write her famed song "Freight Train." She wrote it as a tribute to the trains that stopped in Carrboro as she could hear them from her childhood home. The sound and light systems have been upgraded, and artists of all genres entertain. At times, The Station also offers the Secret Show series which gives musicians who usually play in large venues a chance to perform in a quaint setting.
If you would like to live a short drive from these music venues, please contact us to tour Shortbread Lofts. Our leasing agents would love to give you a tour.