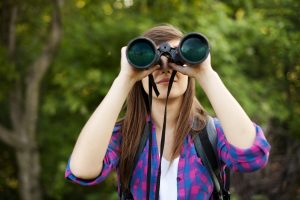 ---
Watch For Birds at Swift Creek Bluffs Nature Preserve
An easy drive from Shortbread Lofts is a twenty-three-acre urban escape known as the Swift Creek Bluffs Nature Preserve.
It's home to an array colorful flowers as well as massive beech trees that date back to the days of James Madison.
The preserve has also earned a place in the North Carolina Birding Trail: Piedmont Trail Guide as it features an array of species, especially during migration and early spring breeding.
Visitors are encouraged to bring their binoculars, and birds include:
Carolina Chickadee
Carolina chickadees are tiny birds with a short neck and large head, which give them a distinctive spherical body shape. They feature a black cap, while their back, wings, and tail are soft gray. These birds are both inquisitive and acrobatic and are often spotted with other species in feeding flocks. They have a repertoire of at least thirty-five songs including "fee-bee-fee-bee" and "chickadee-dee-dee."
Common Yellowthroat
Common yellowthroats are one of the most widespread warblers in the United States. They have a round belly and long tail and are identified by their bright yellow underparts, olive upperparts, and black face mask. These birds are found in habitats that range from grasslands to pine forests, and they spend a lot of time searching the ground for spiders and small insects. Listen for their "witchety-witchety-witchety" call that lasts about two seconds.
Brown Thrasher
Brown thrashers are abundant throughout the eastern and central United States. They are well camouflaged with foxy brown feathers and whitish underparts, and their tail is often held upward. During mealtime, they forage on the ground below dense ground cover and make a harsh "tsuck call."
The Swift Creek Bluffs Nature Preserve is just one of the outdoor attractions near our apartments in Chapel Hill. If you are considering calling our community home, please contact us. We'd love to show you our amenities firsthand.