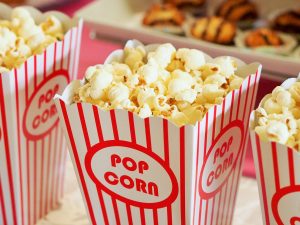 ---
Did you know that the average person goes to the movies six times a year?
There are nearly forty thousand screens across the United States, and theaters near Shortbread Lofts include the following:
Lumina Theater
Nestled in the Southern Village neighborhood, the theater that is Lumina is a locally owned independent theater that offers a cozy experience. It features five theaters that play first-run films in an all-digital format, and a concessions stand that serves buttery popcorn and more. If you dine at a restaurant located in Southern Village, present your receipt at the box office to receive a discounted ticket. This deal is good Monday through Thursday.
Chelsea Theater
The Chelsea Theater is a small theater with just three screens, and its mission is to provide the community with the best foreign and independent films. The auditoriums are cozy, and Indy Weekly states that Chelsea is home to the "Best Movie Snack Bar" as it's stocked with moviegoers' favorite candies. Matinees are offered on Wednesdays as well as the weekends.
Frank Theatres
The Frank Family Entertainment Group began in 1906 from humble beginnings. Today, it is known as an innovator in the entertainment industry, and Frank Theatres are found in eight states. They offer comfortable seats and the latest in sound technology, and guests can munch on popcorn as they enjoy the newest Hollywood blockbuster.
The Cary Theater
Nestled in downtown Cary, The Cary Theater is found inside the building that housed the city's first indoor movie theater. It later became a clothing store, an auto parts store, and a recording studio. The building was renovated in 2011, and the theater opened three years later. It shows classic and independent films, as well as documentaries, and tickets can be purchased at the box office or online.
These are just some of the theaters near our apartments in Chapel Hill. If you are searching for a place to call home, please contact us. We'd love to show you our community firsthand.