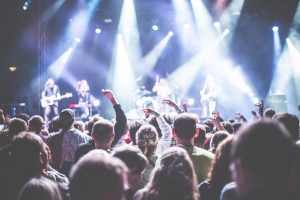 ---
An easy drive from Shortbread Lofts is a destination that has called downtown Durham home since 1926.
We are talking about the Carolina Theatre, and every year it presents daily films and more than sixty concerts.
It's known as one of the city's most beloved institutions and is an intimate venue with under 1,100 seats.
More than 150,000 patrons visit annually, and upcoming musical performances include:
The Fab Four (March 18)
The Fab Four is considered the best Beatles tribute band in the world. They pay attention to detail, and their performances feature three costumes changes which represent every era of the Beatles successful career. Audiences can sing along to songs such as "Hey Jude," "Can't Buy Me Love," and "Here Comes the Sun."
Lucius (March 24)
Lucius is a four-piece band that has received critical acclaim for their mesmerizing stage presence and songs that showcase taut hooks. Rolling Stone says their vocals are "powerful enough to knock you over," and they are currently entertaining audiences with their newest songs such as "Tempest," "Right Down the Line," and "Good Night, Irene."
Home Free (March 28)
Home Free is an a cappella country group that burst onto the scene in 2013. To date, they have entertained more than 300,000 people live in concert and amassed more than 185 million views on YouTube. The band is currently performing songs from their latest release which debuted at number two on the Billboard Country Album Chart. Tunes include "Castle on the Hill," "When You Walk In," and "Man of Constant Sorrow."
The Carolina Theatre is just one of the cultural attractions near our apartments in Chapel Hill, North Carolina. If you are looking for a place to call home, please contact our friendly representatives to schedule a tour. We would love to show you our amenities firsthand.