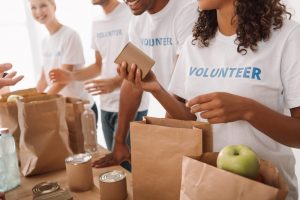 ---
When you think of spring break for college students the image that most likely comes to mind involves beaches and sunshine. This was not the case for several groups of students from UNC. Through the Alternative Spring Break course provided by the APPLES service-learning group, several groups of students traveled throughout North Carolina and Alabama working to make an impact and help serve the community by addressing the social issues most impacting them
The spring break program this year consisted of a wide variety of tasks ranging from helping with hurricane relief to serving at a food pantry. Though the tasks students engaged in were varied, they were all given the time to reflect on what service means to them and how to better serve their own communities. While some groups worked in more rural areas of the two states, another group worked in Charlotte, the most populous city in North Carolina, to engage with non-profit organizations helping combat some of the socioeconomic issues the city faces. Student Erin Ansboro, co-leader of the Charlotte trip, says "she hopes her classmates will learn how to build on a community's strengths to help address widespread issues like poverty and domestic violence".
Robert Pleasants, teacher of the course through the Carolina Center for Public Service, says that "the course really helps students focus on what service means to them and find ways to live a life of integrity where they can put that into practice".
APPLES started in 1990, is a student-led service learning group at UNC Chapel Hill that aims to connect academic learning to public service. APPLES aims to add depth to the learning experience by expanding it outside the walls of the classroom and engaging students and faculty in meaningful collaborations with community organizations. APPLES stands for "Assisting People in Planning Learning Experiences in Service" and they celebrated 25 years of service learning at UNC in 2015.
Our apartments near UNC is the premium location for off-campus student housing! Designed with the students of UNC in mind and just minutes away from the campus in downtown. Shortbread Lofts offers designer-inspired amenities and exceptionally chic lofts, in addition to a community of privilege for those who want an incredible residential experience. Contact us today to schedule a tour!