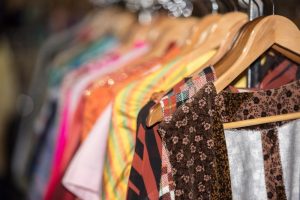 ---
Thrift stores are a fantastic option whether you're looking for a unique gift, cheap furniture or a vintage addition to your wardrobe. You never really know what you might find, which makes it a completely different experience from a trip to the mall. Luckily, there's plenty of great thrift shopping to be found near our apartments in Chapel Hill.
CAMERON'S
The funky and artsy atmosphere of this thrift store is part of what makes it a really fun destination. You can browse through locally made jewelry and artwork as well as vintage jeans and T-shirts. Cameron's has an unbeatable range of gift options including cards, novelties, candles and high-end lotions. For a really nice touch, everything you buy is hand-wrapped beautifully, in the color and theme of your choice.
RUMORS
This thrift shop has a small but very well-curated collection of vintage and contemporary clothes for men and women. There's also some great gift ideas to be found in their eclectic mix of accessories like hats, shoes, bags and jewelry. Prices are not as low as Goodwill but you can score great deals on designer finds. You can also bring in your own clothes to sell for cash or store credit. If you want to know when is a good time to come in check out their Instagram to see the newest additions.
SURPLUS SIDS
This is the sort of place you wander into even without needing to make a specific purchase, just for the sheer fun of browsing through the funky items. Surplus Sids has been a weird and wonderful destination for over 30 years and it's the perfect place to find a Halloween costume, a beautiful Navy coat, some vintage jewelry and many other random treasures. There's also a large collection of inexpensive pre-owned furniture where you can score anything from a desk to a quirky armchair. This store is an experience and not just a shopping destination, so it would be fun to come with a friend.
UNIQUITIES
Visit this upscale boutique for high-end denim, designer vintage pieces, and trendy contemporary clothing. The prices are on the higher side but it's justified by very high quality materials. Uniquities has a bright, colorful space that provides a relaxing shopping experience. One huge perk is any pair of pants you buy can be tailored for you at no additional charge.
When you live at Shortbread Lofts you can be close to campus and to all the many experiences Chapel Hill has to offer. Contact us to learn more about our community!
Looking to take your shopping bug to the market? Head to Blue Dogwood Market for artisanal bites and delights!