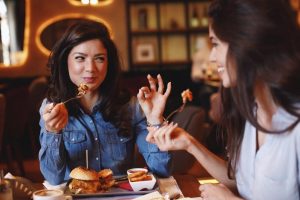 ---
Finding a place to eat out isn't always easy when you have to consider food allergies.
Fortunately, numerous restaurants near our Chapel Hill apartments have taken notice and want everyone to have a quality culinary experience. Check out three of the best nearby allergen-friendly restaurants.
The Refectory Café
This award-winning eatery got its start at Duke University as the institution's first Green restaurant. With a goal of producing amazing food with focuses on healthy dining, sourcing from local farmers, and social and environmental sustainability, The Refectory Café soon became a Durham favorite. Now off-campus, this restaurant maintains that focus by offering allergen-friendly American dishes. Their menus include breakfast, lunch, dinner, and weekend brunch.
Fresh Levant Bistro
Fresh Levant Bistro offers a clean dining experience free of GMO and gluten foods. Plus, they source local farmers and regional suppliers for organic and earth-friendly ingredients. That means the poultry is organic and the meat is grass-fed. The chefs also pan-fry and sauté with extra virgin olive oil and grape seed oil. They also bake with coconut oil, olive oil, ghee, and organic/grass-fed butter. All baking ingredients are organic, as is the grass-fed dairy.
You can take friends or that special someone any time and enjoy any of the dishes from the breakfast, lunch, dinner, or Sunday brunch menus. Or, if you want to enjoy Fresh Levant Bistro without leaving home, you can order through GrubHub.
Soul Cocina
Soul Cocina provides hungry Shortbread Lofts residents with tasty Latin fare. Plus, founder Silvana Rangel-Duque makes it her mission to bring diners a community-based culinary experience that centers around mindful, healthy eating. The plant-based, gluten-free fare adds a whole new dimension to dishes your kids think they know. The tamales are made with such ingredients as sriracha braised lentils, black beans, spinach, and olives. The veggie barbacoa tacos contain a medley of fresh vegetables tucked inside corn tortillas, along with red onions and cilantro on top. Pasteles de Yuca feature roasted yuca pockets stuffed with spinach, brown rice, and red lentils.
To find out more about living at Shortbread Lofts in Chapel Hill and to schedule a tour of our community, contact us. To stay in the know about upcoming events in our area, just follow our blog.
In the mood for a cup of coffee after you visit these establishments? Head to Perennial for the perfect cup of Joe. Learn all about it here.