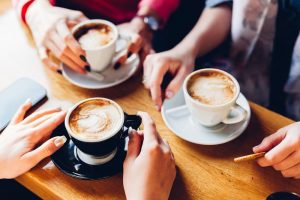 ---
The weather may be a bit dreary this time of year, but there's a bright spot nearby that offers warm refreshments in a cozy, friendly atmosphere near our Chapel Hill apartments.
Perennial Cafe featured in Chapel Hill Magazine as a "bright welcoming beacon for caffeine seekers" and noted in the weekly newspaper published in NC that is, Indy Week for their award-winning barista, is only a short eight-minute walk from the community at Shortbread Lofts. Whether you're in a hurry and need something to go, or you plan to stay a while, the atmosphere will inspire you as much as the aromas of the specialty coffees and teas served hot or cold.
Perennial may be somewhat new to the community, they opened their doors nearly a year and a half ago, but they already receive a lot of love from customers for their specialty espressos, teas, coffee, and pastries, as well as the good vibes they feel when they stop in for a visit. Their Instagram followers enjoy sharing photos of what they love about their favorite coffee and pastry spot. Green plants growing along the exposed interior brick wall, baristas working at their craft, a cozy loft area, and pics of themselves and their friends enjoying a cup. They also have outdoor seating so that you can enjoy your refreshments with some sunshine in the warmer months.
More than offering coffee and other refreshments, Perennial contributes to the health of the community of Chapel Hill by partnering with CompostNow to reduce waste and enrich the local environment. Their disposable cups, lids, and straws are all compostable, and their used coffee grounds are turned into fertilizer. Coffee and tea lovers can feel good knowing that their purchases benefit the community at large.
If you are a student seeking the ideal balance between life, studies, and work, the community at Shortbread Lofts offers many useful amenities all in one place. We are conveniently located within walking distance of many popular dining, shopping and recreational spots like Perennial. Contact us now to find out how our community can enhance the quality of your student stay, and plan a visit to see our thriving community for yourself!
In Chapel Hill, you can satisfy your foodie needs at a variety of restaurants? Click here to learn all about Al's Burger Shack, our go-to spot for some of the best burgers in town.