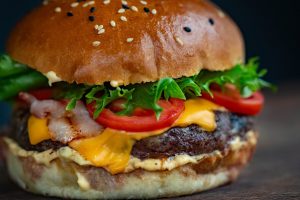 ---
The next time the craving for a burger strikes, head to Al's Burger Shack for the perfect patty. Here's what you can expect to find at this charming gem near our Chapel Hill apartments.
What Is Al's All About?
When they opened Al's Burger Shack on Franklin Street in 2013, Al and Melody Bowers' goal was to serve "fresh and sustainable food and drink with a hefty dose of Southern hospitality." They've achieved that vision by maintaining a commitment to sustainability through a relationship with local farmers.
Their beef is pasture raised in North Carolina and free of antibiotics and hormones. Local dairies supply the custard and cheese. Al's also strives to use as much produce as possible from local farmers. They retain control of quality by making their dressings and topping in-house.
In fact, sustainability was the guiding principle throughout the construction of the Shack. The Bowers were able to recycle almost 100% of the existing space. They continued the theme by constructing the bar tops and picnic tables from reclaimed wood and using 200-year-old bricks to complete some portions of the patio steps.
What Does Al's Serve?
With that very first bite, you'll realize why Al's Burger Shack was named the "best burger in America in 2018 by Food & Wine Magazine and TripAdvisor." Your audible response is simply a satisfied sigh as you savor the thoughtfully blended ingredients of each masterpiece.
You might decide on one of the burgers cooked to medium rare perfection, such as the Mookie that's featured with bacon-onion jam, roasted garlic aioli, blue marble cheese and served on a buttered potato bun. On the other hand, the vegetarian Kaarin may suit you. It's a sweet potato, black bean & oats burger served with guacamole, lettuce, tomato, and sliced red onion. Don't forget the dogs, though. Each all-beef creation is served on a buttered potato bun with your choice of toppings.
Complete your meal extravaganza with crispy fries blended with sea salt and rosemary. Add a fountain drink or a hand-mixed vanilla or chocolate shake, and you've got just what you needed to get your brain rejuvenated.
Get some fresh air and exercise with the short walk back to your study oasis at Shortbread Lofts. If you don't already call us home, contact us for a tour of our various floor plans and upscale amenities.
Craving something sweet after your delicious burger? Head to one of these bakeries that specialize in delicious cookies.