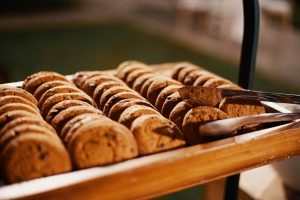 ---
Not being home while parents are baking for the upcoming holidays can be a bit of a drag, but we have the perfect fix to hold you over until you make the trip.
Living at our Chapel Hill apartments offers close proximity to a multitude of amazing places to curb your sweet tooth. Here are a few of our favorites.
Pizzelle Bakery
The Pizzelle Bakery, specializing in Italian pastries, is right on West Franklin in Chapel Hill, and may just curb your nostalgia for yummy treats year-round. These delectable morsels melt in your mouth and may even be better than moms, (shhh - we won't tell her that). Complete with soy and gluten free options as well as being recommended by vegetarians, this place aims to meet the needs of almost any sweet craving student. Clean and welcoming, there's even a place to sit outside, weather permitting. While enjoying a cannoli pizzelle, grab a cappuccino, an Americano or other coffee of choice to completely enjoy the experience.
Insomnia Cookies
Have a craving at 1:30 am after a night out or need a break from studying? There's a delicious treat waiting for you at Insomnia Cookies. This cookie hot spot is located on East Franklin Street, and for those who want to go during more normal hours, they also offer bike parking. Every type of traditional cookie choice is available, but for a discerning palate try the triple chocolate. All cookies are served warm and ready to melt in your mouth. Make sure you sign up for their cookie dough loyalty tracker program. For every dollar spent you get one point, when you reach one hundred points you get $10.00 to spend at the shop.
Life at Shortbread Lofts is just a few steps away from campus, yet close to amazing places to eat and great entertainment. Contact us to learn more and schedule a tour.