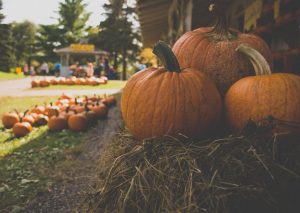 ---
Fall is a great time to enjoy the cooler weather and take in all of the fun activities that come with it—apple picking, hayrides and leaf peeping. One of the most celebrated activities of all, however, is a trip to a local farm in search of that perfect pumpkin. Visiting a pumpkin patch not only epitomizes the fall season but it is also something that is fun to do with a group. The Chapel Hill area is fortunate to be surrounded by rolling hills and farmland, making it an ideal spot to find a pumpkin around our apartments near University of North Carolina.
Phillips Farms
Located just west of Chapel Hill in Cary, Phillips Farms is a quintessential fall destination. Family-owned and operated, Phillips Farms has been serving the community for over 100 years. Fall is the perfect time to visit the farm to find a wide array of pumpkins that can either be picked from the pumpkin patch or selected from their farm stand. Open Friday through Sundays through the end of October, Phillips Farms also offers great fall activities such as their corn maze and Haunted Farm.
Smith's Family Fun Farm
Making its home in nearby Hillsborough,Smith's Family Fun Farm is a picturesque farm just minutes away from Chapel Hill. With a large pumpkin patch, there are lots of varieties of pumpkins to pick off of the vine as well as a selection of pre-picked pumpkins. Visitors can also enjoy a beautiful sunflower maze and a scenic ride around the farm on their tractor.
Page Farms
With over 100 acres, Page Farms has a large crop of everything from springtime strawberries to pumpkins grown in the fall. Located in Raleigh, this fourth-generation farm celebrates autumn with a large pumpkin patch for visitors to pick fresh from the vine. In addition, Page Farms also offers a corn maze, hayrides and food trucks for a fun day of fall fun.
Shortbread Lofts offers luxury living in the heart of Chapel Hill with just a short drive to great fall activities such as these. Please contact us for more information and to schedule a visit.