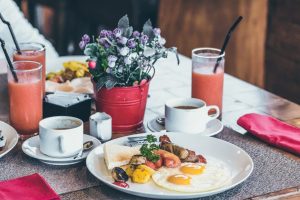 ---
There are many things to love about the Shortbread Lofts in downtown Chapel Hill, and one has to be its proximity to good food. Even though every apartment suite comes with a full kitchen, sometimes you just want to eat out.
Below are four delicious breakfast spots within walking distance to check out.
306-B West Franklin Street, Chapel Hill, NC 27516 (A four minute or less walk)
The Purple Bowl is just around the block from the Shortbread Lofts. Locally owned by a young Chapel Hill entrepreneur named Taylor, The Purple Bowl specializes in acai - a tasty purple berry known for its health benefits. Inspired by a family trip to California, Taylor discovered the delights of an acai fruit bowl. Motivated to bring this unique flavor to Chapel Hill, Taylor traveled the west coast to find the best recipe. What he created is sure to impress. The Purple Bowl has a bright and welcoming atmosphere. They serve fresh and responsibly sourced coffee, artisan bread, and other healthy delights.
503 West Rosemary Street, Chapel Hill, NC 27516 (A four minute or less walk)
If you're craving delicious pastries, Bread & Butter is the place to be. A casual neighborhood cafe atmosphere, Bread & Butter is perfect for an espresso coffee and a butter croissant. Their selection of muffins, scones, baguettes, pies, and tarts changes often so stop in frequently to taste it all.
401 E Main Street, Carrboro, NC 27510 (An eight minute or less walk)
If you're craving a crepe, but wouldn't mind some biscuits and gravy, Cafe Carrboro is the place for you. This small French-inspired cafe is only an eight-minute walk west of the Shortbread Lofts. This cozy cottage is excellent for a lazy Saturday breakfast or a Sunday brunch.
173 E Franklin Street, Chapel Hill, NC 21510 (About a 10-minute walk)
The Ye Olde Waffle Shoppe has been serving up waffles for more than 45 years. Established in 1972 and still owned by the original family, the Ye Olde Waffle Shoppe hasn't changed much since it opened. Breakfast is served counter-style just like they did back in the 70s. Complete with four industrial-sized waffle irons fired up, this kitchen has everything from Texas French Toast to eggs Benedict to M&M waffles to veggie wraps to omelets. This place is excellent for the days you are craving a hearty good old American breakfast.
Shortbread Lofts are near the University of North Carolina. These upscale student apartments are within walking distance to shopping and great food. Check out our website or contact us to schedule a tour.