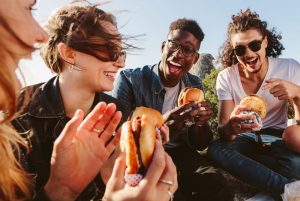 ---
Did you know that sixty percent of sandwiches sold around the world are burgers?
Americans eat fifty billion every year, and if you would like to enjoy a burger tonight, the best nearby restaurants include Sutton's Drugstore, Al's Burger Shack, Venable Rotisserie Bistro, and Buns.
Sutton's Drugstore
Established in 1923, Sutton's is a drugstore grill that blends the Tar Heel tradition with a bit of old-school charm. It has been featured in various magazines, and the staff has been hanging pictures of their customers since 1983. All of the burgers are served with chips and your choice of toppings, and options include veggie, The Stockyard, and patty melts.
Al's Burger Shack
At Al's, the mission is to offer fresh, sustainable food with a dose of Southern hospitality. The wait staff provides attentive service, and the restaurant is complete with bar tops and picnic tables made from reclaimed wood. The chefs create the burgers using beef from North Carolina pasture-raised cattle, and options include Big Al, Mookie, and Kenny J.
Venable Rotisserie Bistro
Since 2012, Venable's has been known for serving elevated comfort food with big, bold flavors. Chef Dave Moore graduated from the Culinary Institute of America, and he makes all of the dishes using fresh, locally sourced ingredients. The restaurant offers a modern dining area, and it's where guests can enjoy a leisurely meal with family and friends. Try the Venable burger topped with cheddar cheese and hatch green chilies.
Buns
Buns is Chapel Hill's locally owned and operated burger restaurant. It offers unparalleled service, and both the patties and fries are made fresh throughout the day. The restaurant has been featured in several publications such as *Southern Living Magazine, and the Angus chuck burgers can be enjoyed with an array of toppings.
These are just a few of the burger joints near Shortbread Lofts. If you are interested in calling our community home, please contact our leasing agents to arrange a tour.