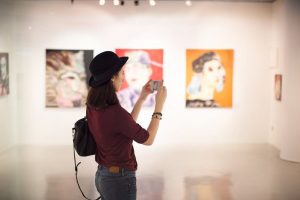 ---
The Chapel Hill area is home to a thriving arts scene, and it features numerous galleries that display the works of artists from across the globe.
Galleries not to be missed include:
Pleiades Arts
Pleiades Arts fosters a community appreciation for and engagement with the arts. The owners believe that original artwork is important in our everyday lives as it brings, beauty, contemplation, and discussion. The artists work in an array of media, and in addition to buying art, visitors can also explore exhibits that change every six weeks to eight weeks. Monthly receptions take place every third Friday from 6:00 p.m. to 9:00 p.m., and all events are free and open to the public.
Naomi Studio and Gallery
Nestled in the heart of the Ninth Street Historical District, the Naomi Studio showcases a diverse collection of fine art and collectibles. Theresa Naomi Writz founded the gallery in 2015 as it was her dream to display her work while at the same time promoting other artists and creating interactive community events. The staff is knowledgeable, and the showroom features colorful paintings, woodblock prints, and interesting sculptures just to name a few.
Alizarin Gallery
Located in the center of downtown Durham, the Alizarin Gallery works to support both local and regional artists. Its mission is to provide a multi-use gallery for exhibits and workshops to increase the artists' exposure so they become better known and sell their work. The friendly staff enjoys helping guests build their art collection, and the pieces are made of metal, wood, and more.
Along with these galleries, Shortbread Lofts is also near exciting museums, relaxing spas, and top shopping and dining destinations. If you would like to call our community home, please contact us to schedule a tour where we can show you all we have to offer firsthand.