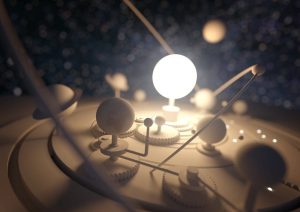 ---
Gaze at the Stars at Morehead Planetarium
As one of North Carolina's cultural and historic hubs, Chapel Hill has plenty to offer in both entertainment and enrichment. Whether you love to watch the night sky and have your constellations memorized, or you don't know Betelgeuse from Alpha Centauri and you want to know more, head to Morehead Planetarium and Science Center for a day spent among the stars. It's not just any planetarium: this is the place where U.S. astronauts came to train for the Mercury, Gemini, and Apollo missions.
Planetarium Shows
The planetarium offers a seasonal schedule of shows that explore all the wonders of the night sky. Some shows are better suited for younger children, so check the schedule and plan ahead before you go.
To learn more about the stars right above your head, check out Carolina Skies, a long-running live show that's never the same twice. A Morehead educator will teach you how to identify the stars and planets above and how to use the sky to find your way when the sun goes down.
Other popular programs include Phantom of the Universe, a dive into dark matter narrated by Tilda Swinton, and Astronaut, an immersive show that will virtually launch you into outer space.
Science Stage
Come back down to Earth with interactive demonstrations of science at a Science Stage show. Live "mad scientists" perform experiments intended for all ages, including weighing the air, bursting balloons with 900 nails, and lighting one or two things on fire. Just be warned: you might be called on to participate yourself.
Skywatching
Get out from under the planetarium screen and see the sky up close for yourself. Once a month, Morehead educators and members of the Chapel Hill Astronomical & Observational Society provide telescopes and a live laser-guided tour of overhead stars, planets, moons, nebulae, and more. Sessions are held either at Ebenezer Church Recreation Area, Little River Regional Park, or just off of Guess Road at the border between Durham and Orange Counties. Sessions are canceled if the forecast calls for storms or clouds.
Hours and Admission
Morehead Planetarium is open Tuesdays through Saturdays from 10 a.m. to 3:30 p.m., and on Sundays from 1 p.m. to 4:30 p.m. All science stage programs and exhibits are free of charge. Tickets to the planetarium shows come in at $6.51 for students and are available for sale in the center's gift shop 30 minutes before showtime.
The Morehead is just one spot in Chapel Hill where you can expand beyond your everyday horizons. And the community at Shortbread Lofts puts you at the center of it all. Contact us for more information or to set up a tour today.