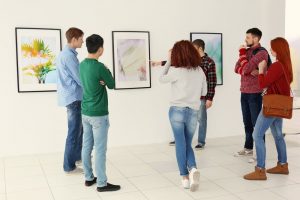 ---
Check Out The Ackland Art Museum Just Three Minutes from Shortbread Lofts
Just three minutes from Shortbread Lofts is one of the most important cultural resources in North Carolina.
We're talking about the Ackland Art Museum, and it was founded through the bequest of William Hayes Ackland.
The museum's permanent collection includes more than eighteen thousand works, and it presents ten to twelve changing exhibitions every year. Highlights include:
The Outwin: America Portraiture Today (on display June 1, 2018 - August 26, 2018)
The Outwin: American Portraiture Today exhibit is the result of a prestigious juried competition. It was organized by the Smithsonian's National Portrait Gallery, and the forty-three works showcase the excellence and innovation in portrait media.
Color Across Asia (on view through May 26, 2019)
Color Across Asia features the museum's acclaimed collection of art from across the continent. It showcases a rich history of innovation, invention, and imitation, and pieces include Neolithic burial urns, Japanese Art Deco screens, and Chinese Imperial porcelain.
Patrick Dougherty: Step Right Up (on view through August 31, 2019)
Step Right Up is an interesting exhibit that features the stickwork sculptures of Chapel Hill-based artist Patrick Dougherty. It's situated outdoors, and Patrick took inspiration from an ancient zoomorphic pouring vessel that's on display in the museum's gallery. The large-scale sculptures were mainly made of maple and gum tree samplings, and visitors are invited to step inside each piece.
Tai Chi in the Galleries
In addition to the exhibits, the museum also offers an array of adult programs such as Tai Chi in the Galleries. It takes place most Mondays from 1:00 p.m. to 2:00 p.m., and instructor Joanne Marshall uses gentle Sun-style tai chi routines that are easy to learn.
The Ackland Museum is just one of the cultural attractions near our Chapel Hill apartment community. If you are searching for a place to call home, please contact our friendly leasing agents to schedule a tour.