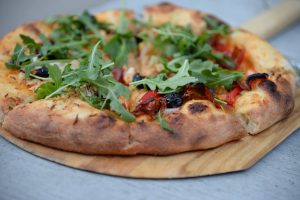 ---
If you want to enjoy a meal with friends, head to one of these restaurants where you can feast on a piping hot pizza that's oozing with cheese.
Highlights include:
Pizzeria Mercato
Pizzeria Mercato is a seasonally focused eatery where the menu is inspired by the ingredients found at the Carrboro Farmers Market. It offers a casual atmosphere and is owned by Gabe Barker who stays faithful to the Italian tradition by embracing the principle that "less is more." The restaurant has been recognized by several publications such as Bon Appetit and Chapel Hill Magazine, and pizzas include Funghi, Panna, and Margherita.
Brenz Pizza Co.
It was in 2008 when Scott Morse and Robert Giuliani decided to blend their Italian roots with their New York and Columbus upbringings to create the ultimate pizza. The result was Enzo's Pizza Co., and it quickly became popular among locals and critics alike. A few years later, they expanded the business to include the Brenz Pizza Co., and it consistently wins top honors at national competitions. Specialty pizzas include The Heater, Tres Amigos, and Spicy Hawaiian.
Lotsa Stone Fired Pizza
At Lotsa, you customize your own pizza by selecting from fresh doughs, signature sauces, artisan cheeses, and premium toppings. The chefs will prepare it in front of you before baking it in a stone-fired oven which creates a crisp, yet chewy crust with a smoky accent. In the dining room, guests can enjoy a casual environment that's complete with friendly service, murals, and several televisions, and in addition to the pizzas, the menu also includes cheesy stix, side salads, and salted caramel cookies.
If you would like to call Shortbread Lofts home, please contact our friendly representatives to arrange a tour. Along with these pizzerias, we are also near fun cultural attractions, relaxing spas, and top shopping destinations.